« Back to Staff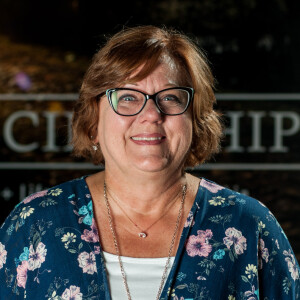 Cindy Perkins
Spiritual Journey Pastor
Cindy and her husband Larry began attending Bay Life in September of 2000. They have been married for 42 years and have two children, Amber and Jesse. Cindy faithfully serves as the Spiritual Journey Pastor at Bay Life.
Tell us about yourself and your faith journey.
I was not raised in a consistently Christian home. We went to church occasionally, but didn't even have a real Bible in the house. When I was 16, I accepted Christ as my Savior and tried to live like I knew a Christian should live. I married Larry in 1975, and he immediately went into the service. We were drawn away from godly things, drifting into a place of apathy, and soon began to live a life that was not pleasing to God. We were in this state for a number of years, occasionally landing in a church for a short time, but never really experiencing any significant life change. In late 1987, we knew we needed to do life differently, and began attending a small church near our home. While working with teens, God showed me the love He had for me, and the level of surrender He desired from me. I chose to turn away from the parts of my life that drew me away, and fully surrendered the rest of my heart to Christ. I have never looked back. I am so grateful that God never gives up on us, even in our most disobedient moments. And I am blown away that He continues to use me in the capacities He does.
What is your personal hope and prayer for Bay Life Church?
I pray that the people at Bay Life Church will experience God in a deeply profound way, as we all travel on this spiritual journey together. I pray we can be a light shining in the darkness we see in the world, that we bring hope to the lost and hurting, and that we are always a house of prayer.
Coolest place you've ever been?
Innsbruck, Austria
Favorite book (besides the Bible)?
The Pursuit of God by A.W. Tozer
Favorite food?
Ice cream and coffee - maybe together
What do you do for fun or to relax?
Read, go to the beach, paint