« Back to Staff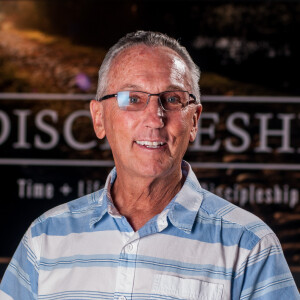 Scott Ranck
Men's Ministry Coordinator
Scott began serving at Bay Life Church in August of 2006. He and his wife, Gayle, have been married for 44 years and have three children, Jennifer, Lisa, and Timothy. They also have four grandchildren. Scott faithfully serves as the Men's Ministry Coordinator at Bay Life.
Tell us about yourself and your faith journey.
I was a middle child, an energetic kid that liked to test all the boundaries. The rules never applied to me! Married my high school sweetheart at 19 years of age and within two years our marriage had tanked. We began attending church at the invitation of a cousin and I came to know Jesus as my Savior within a couple months. We got very involved in service and ended up going off to Bible College for me to become a pastor. Seven years later, I was pastoring a small church in rural NC. Six and a half years later moved to Chesapeake, VA and a significantly larger ministry. Serving doesn't make you godly! Many failures later, I'm learning to know what it means to surrender to God and allow Him to really use me.
What is your personal hope and prayer for Bay Life Church?
My prayer for Bay Life is that we will become a church that can get down under the surface and deal with the real battles people face everyday. Where we will see many come to a place of total surrender to God and see real disciples made.
Coolest place you have ever been?
Coronado Island, California
Favorite book (besides the Bible)?
Primal Leadership by Daniel Coleman
Favorite food?
Spaghetti and meat sauce
What do you do for fun or to relax?
Going to the gym, love the beach, love to surf, love to read