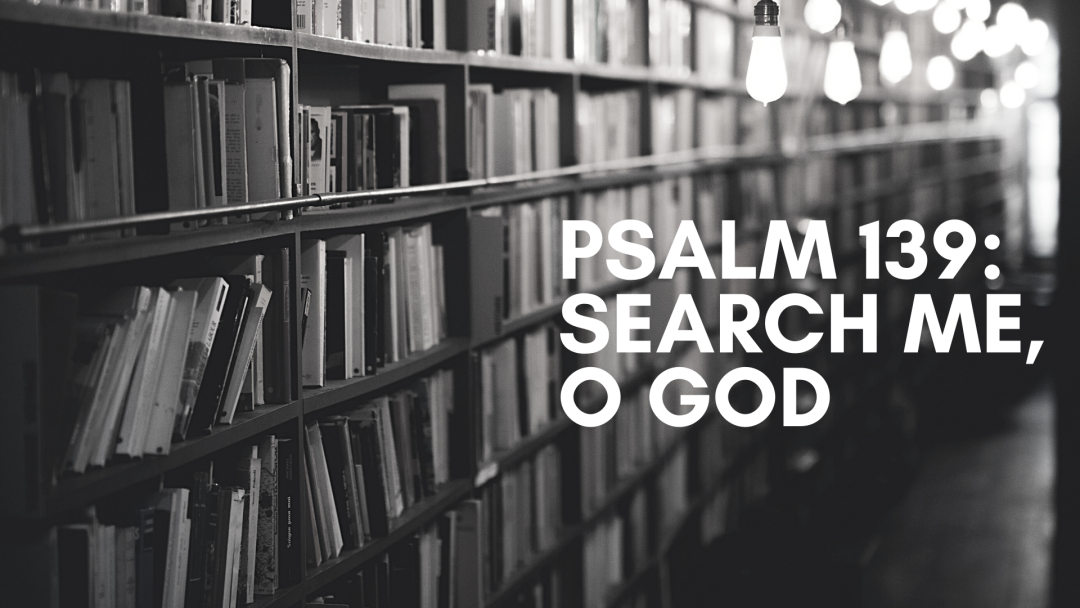 Before writing this post about one of my all-time favorite psalms, I was apprehensive that I'd get something wrong, and perhaps even be sentenced to a stern theological lecturing by Travis. (Just kidding about the last part). Still, Charles Spurgeon wrote a whole commentary on it, so I thought, "How can I come close to someone like that?" but then the Holy Spirit reminded me of what the psalm says: "O LORD, you have searched me and known me!" and "You discern my thoughts from afar" (139:1-2). Because He discerns my thoughts, He knew exactly how to address them through the scripture I was nervous to write about.
Good one, God!
Fearfully And Wonderfully Made
So, who cares if I don't "know" as much as someone who went to seminary? The psalm itself says that God knows every part of each of us and implies that He made us for distinct purposes. We are "fearfully and wonderfully made," as David writes in verse 14. One verse earlier, he gives the context for why he praises God, saying, "you formed my inward parts; you knitted me together in my mother's womb," which is why he can declare, "I praise you, for I am fearfully and wonderfully made."
Verse 14 was the first one I learned from this psalm, which is probably true for most of us who grew up in the church. It has special significance for me because I know that it's true, even when I don't feel like it is. As someone who has a visual impairment and cerebral palsy, it's easy to believe the lie that maybe God cut some corners, especially when I was a kid. It didn't seem fair that other kids had no trouble climbing the monkey bars or seeing the rungs in the first place. But as I've gotten older, I've realized it doesn't matter if I can't do something as fast as, or in the same way as someone else can. Let's face it: all of our bodies are imperfect because of the Fall; my situation is just more noticeable than others.
God's Sovereignty
David knew original sin marred God's perfect creation, but, even so, he rejoices in the fact that God is still intimately involved in our design, and still shaped us with the utmost care when we were "intricately woven in the depths of the earth" (15). But, if that wasn't enough for the psalmist to wonder at, he praises God for His sovereignty when he writes, "All the days ordained for me were written in your book before one of them came to be" (16, NIV).
So, with that in mind, it's difficult to feel insignificant. God not only knows everywhere we go and every word before we say it (2-4), but He also ordained the events of our lives, so that even the most chaotic circumstances don't surprise Him.
David then transitions from praising God for His loving attention to detail to His fatherly love for us. He writes, "How precious also are Your thoughts to me, O God! How great is the sum of them!" (verse 17, NKJV). Commenting on this passage, Spurgeon writes, "[David] is not alarmed at the fact that God knows all about him; on the contrary, he is comforted, and even feels himself to be enriched…That God should think upon him is the believer's treasure and pleasure."
A God of Seeing
Like Charles Spurgeon, I identify with David in this passage. The fact that the creator of the universe cares enough to think about me, when there are 7 billion others to think about, is incredible. I'm probably not going to be a world-renowned Christian extraordinaire, but that doesn't make me—and you—any less visible and significant to Him. Remember how Hagar described God in Geneses 16: "So she called the name of the Lord who spoke to her, 'You are a God of seeing,' for she said, 'Truly here I have seen him who looks after me'" (13).
Hagar and Ishmael had no place in God's promise to Abraham and Sarah, yet this passage, and the one in 21:17-20, tells us that God loves and cares for us, no matter how alienated we feel. David addresses this fact in the psalm, saying, "Where shall I go from your Spirit? Or where shall I flee from your presence? If I ascend to heaven, you are there! If I make my bed in Sheol, you are there!" (139:7-8).
In his commentary on Psalm 139, Matthew Henry connects verses 7-8 with Romans 8:38-39, where Paul says, "For I am sure that neither death nor life…will be able to separate us from the love of God in Christ Jesus our Lord." Henry writes, "In the most distant corners of the world, in heaven, or in hell, I cannot go out of thy reach…The grave cannot separate [The psalmist's]body from the love of his Saviour, who will raise it a glorious body. No outward circumstances can separate him from his Lord." No matter if you find yourself in a peaceful season of life or a turbulent one, and no matter what physical, emotional or spiritual challenges you face, God is always there. You are fully known and infinitely valuable to your Maker.