« Back to Staff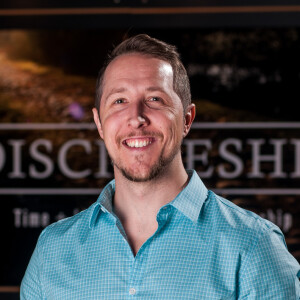 Brenton Shephard
Care & Counseling Pastor
Brenton began serving at Bay Life Church in September of 2011. He and his wife, Amanda, married in 2009 and they have two children, Cohen and Emma. Brenton faithfully serves as the Care and Counseling Pastor at Bay Life.
Tell us about yourself and your faith journey.
I put my faith in Jesus Christ when I was eight years old after my mom had finished reading me one of my favorite Bible stories. As I grew up, different circumstances in my life challenged my faith and trust in Christ. After graduating from high school, I was challenged by a co-worker at the local YMCA where I worked about my faith and what I believed. That night I went home and read my Bible more then I ever had before in one sitting. This was a turning point in my life and my faith. I began to understand what it meant to own my faith and make it my own.
What is your personal hope and prayer for Bay Life Church?
I have been a part of Bay Life Church since I was sixteen. I have served here as a volunteer and on staff for many years and I am proud to call Bay Life home. My hope and prayer is that we, as a church and the body of Christ, would strive to make Christ the center of our lives and challenge each other to grow closer to Him. As we grow personally in our faith, my hope is that we would take what we learn and put it into practice by loving and serving each other and sharing the truth of Christ with the community and the world.
Coolest place you've ever been?
Being in Alaska during the summer on a mission trip was an amazing experience. It was a completely different way to view God's creation and far different from the sunny beaches and flat terrain of Florida.
Favorite book (besides the Bible)?
I loved the book Crazy Love by Francis Chan. His passion for Christ poured through the pages as he reminded and challenged the reader to live in a way that responds to the love that God has poured into our lives.
Favorite food?
It's hard to beat a good steak. Then again, I love tacos, burgers, and wings too. At the end of the day though, nothing beats family lunch of spaghetti and meatballs on Sundays!
What do you do for fun or to relax?
I love spending time with my family. Whether it's going to baseball games, the park, or just taking a walk around the neighborhood as a family, these are the moments I cherish more than anything!