« Back to Staff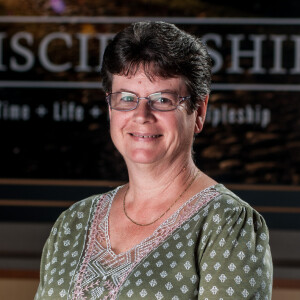 Sharon Poulton
Lambkins Assistant Director
Sharon and her husband Nigel started attending Bay Life in January of 1999. They have been married for 35 years and have three children, Koren, Kirsty, and Calvin. Sharon faithfully serves as the Student Ministry Coordinator at Bay Life.
Tell us about yourself and your faith journey.
I was brought up in a Christian home in England. I found Christ as my own personal Savior at the age of 12. I have walked with Him ever since. I met my husband in 1980 at church. We got married in 1982. After working in an addictions record center in the south of England, my husband felt the call to move to America. I laughed at him, but God made it clear that this was where we were meant to be. We moved here in January 1996. God promised that he would replace my family and the things that we had "lost" by moving. He has been more than faithful to do that. In 1998, we attended our first service at Bay Life Church on Christmas Eve. This has been our church home ever since. I began working at the church in January 1999 in the Student/Life Group Ministries. As the church increased in size, I chose to work with only students. Even to this day, I still love my job.
What is your personal hope and prayer for Bay Life Church?
My personal prayer for Bay Life is to continue to see growth not only in numbers, but more importantly in people and particularly students' lives. I long to see individuals seek God for themselves and not be reliant on others. I long to see people lining up to serve because they want to help others find what they have found.
Coolest place you've ever been?
Hawaii
Favorite food?
Thai
What do you do for fun or to relax?
card stitching, cross stitch, go on long walks or spend time with my family