« Back to Staff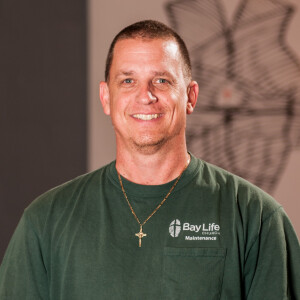 Steve Hardy
Maintenance Supervisor
Steve began serving at Bay Life Church in October of 2003. He and his wife Cynde have been married for 19 years and they have two children, Hayley and Payton. Steve faithfully serves as the Maintenance Supervisor at Bay Life.
Tell us about yourself and your faith journey.
I am the youngest of four children. I have one brother and two sisters. My parents have been married for 51 years. I was born and raised in Tampa. I was never raised in the church. At the age of 18, I felt a calling and went looking for a church. I started going to a Catholic Church. I went through the RCIA program. I attended Nativity where I married my wife. We live here in Brandon with our two kids and are surrounded by family.
What is your personal hope and prayer for Bay Life Church?
My prayer for Bay Life Church is that God speaks to our leadership to do the proper things for the church while reaching out to non-believers and remaining strong in the community.
Coolest place you have ever been?
The Civil War Battlefield at Vicksburg, Mississippi
Favorite book (besides the Bible)?
Nathan Stone series
Favorite food?
Steak
What do you do for fun or to relax?
Mountain biking and bowling