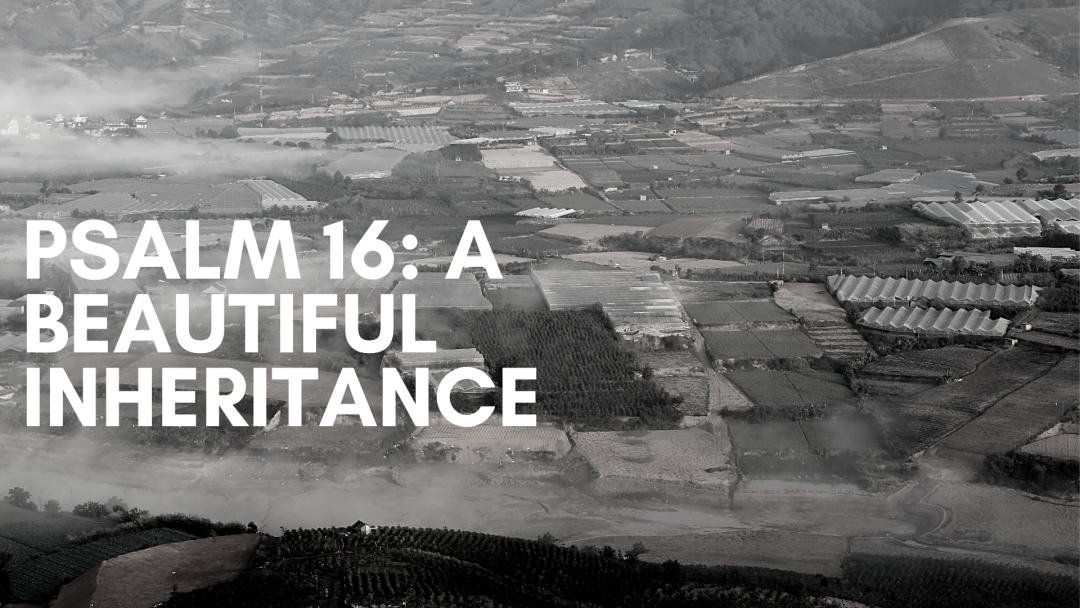 When I was a little girl, my Abuela Lily and I would always sit at the foot of my bed with our Argentine tea and talk about heaven. The reason for this is because I would constantly ask her about my Abuelo Eduardo, whom I never got the chance to meet, as he passed away a couple of months before I was born. So Abuela Lily would tell me stories about my Abuelo's life and how much I reminded her of him. She would tell me about his fervent faith in Jesus as his Lord and Savior, and the way that his life was transformed by the scriptures. And because of his commitment to the Lord and his relationship with Him, his faith became sight when he entered the gates of heaven. These conversations on my twin canopy bed would lead to many a thought about what heaven could be like, and what Abuelo could be doing there at that very moment in time.
Heaven, Hope, and The Psalms
Years later, when I consider heaven now, I am drawn to the prophetic and poetic book of Psalms. This collection passionately depicts the abundant life we receive by seeking and keeping the Lord's commands and statutes and how it relates to the promise of everlasting life through the work of Christ Jesus (Psalm 119: 5,12, 68). I am particularly drawn to Psalm 16, especially verses 4-9:

"The sorrows of those who run after[c] another god shall multiply;
their drink offerings of blood I will not pour out
or take their names on my lips.
The Lord is my chosen portion and my cup;
you hold my lot.
The lines have fallen for me in pleasant places;
indeed, I have a beautiful inheritance.
Bless the Lord who gives me counsel;
in the night also my heart instructs me.[d]
I have set the Lord always before me;
because he is at my right hand, I shall not be shaken.
Therefore my heart is glad, and my whole being[e] rejoices;
my flesh also dwells secure."
In what is likely a season of peril, surrounded by the worship of pagan gods, the psalmist boldly proclaims that Yahweh alone is worthy of all praise and worship because only He is his portion. In his Tyndale Old Testament Commentary on the Psalms, Tremper Longman writes that the psalmist refuses to partake in the pagan rituals (v. 4) knowing that worshipping false gods bring destruction and suffering, while the worship of the true God brings good things. While the author of Psalm 16 could very well be speaking in literal terms when he refers to the Lord as his portion, cup, and lot, the references to land could also be a metaphor intended to communicate the goodness of God's provision.
At The Father's Right Hand
The psalmist goes on to describe his inheritance within the lines allotted to him by God as beautiful or delightful. So magnificent are the promises of God that he pledges his life to the Lord and vows to be guided by Him day and night. When I read these words, I am led to evaluate my own life in these terms established by the psalmist. Have I set the Lord before me at all times? Do I have such unwavering trust in Him that I am never shaken? Unfortunately, more than once, there have been instances in my life where I was shaken to my core. There have been plenty of times where my heart did not follow the Lord's instruction. However, God's grace has undeservingly abounded in my walk with Him. More and more He has shown me the meaning of true joy.
The psalmist goes on in verse 11:
"You make known to me the path of life;
in your presence there is fullness of joy;
at your right hand are pleasures forevermore. "
The fullness of the joy that comes with delighting in the Lord's commands and presence is unlike any worldly experience. He makes known to us the path of life and tells us that His right-hand holds all the pleasures forevermore, which we have access to. Here's where the New Testament can help us understand the Psalms. Over and over again in the Bible, we read that Jesus is seated at the right hand of the Father.
In Mark's gospel chapter 14 verse 62:
"And Jesus said, "I am, and you will see the Son of Man seated at the right hand of Power, and coming with the clouds of heaven."
Again, in Colossians 3:1, Paul writes:
"If then you have been raised with Christ, seek the things that are above, where Christ is, seated at the right hand of God"
Finally at the end of time, we see in Revelation chapter 5 verse 7:
"And he went and took the scroll from the right hand of him who was seated on the throne"

The psalmist who penned Psalm 16 may not have known that it was Jesus Himself who would be seated at the right hand of the Father. But on this side of history, in the age of the New Covenant, we can see much more clearly. And this gives us a fresh sense of the power of the words of verse 11 which tell us that our pleasures forevermore are found at God's right hand where Christ our Lord is seated.
We too, with the confidence only found in salvation through Christ, can declare that our earthly lives spent seeking our Almighty Creator will bring us face to face one day to the One seated at the high hand of the Throne. And until our faith becomes sight, meditating on His word, in prayer and holy communion with Him we catch glimpses of the beauty of His majesty and the glory of everlasting life to come for those who believe in HIm.