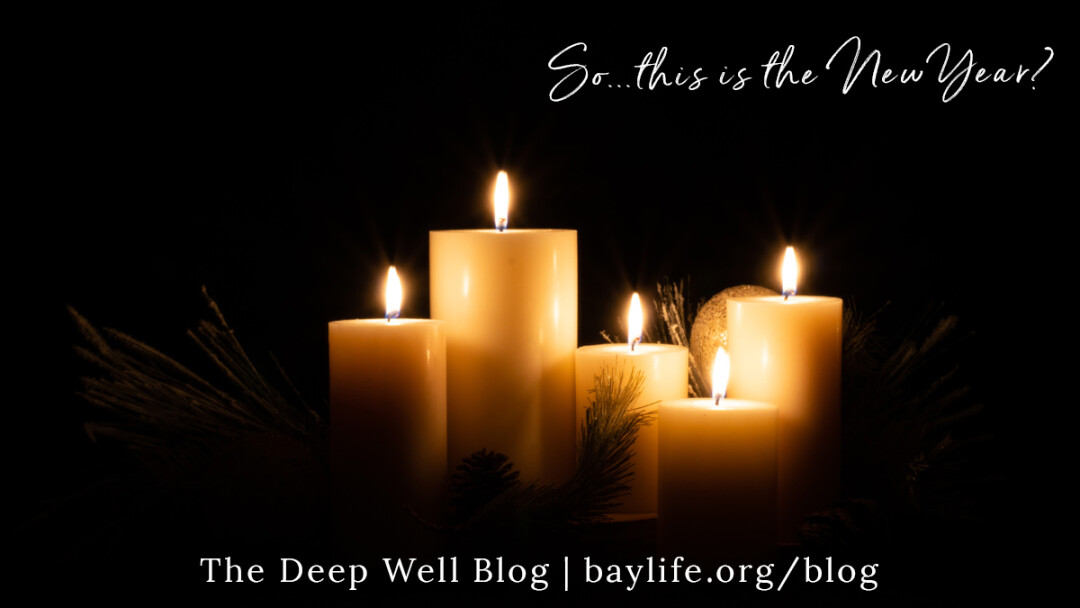 One of the definitive records that marked my high school experience was Death Cab For Cutie's, "Transatlaticism." It's a masterpiece of indie-pop that became something of the soundtrack to growing up for a whole lot of people in my generation. It opens with "New Year," an iconic track that perfectly captures everyone's January 1st experience..."So this is the new year, and I don't feel any different." The sense that nothing has changed, despite another year having passed is one that becomes more and more pervasive with every passing January of adulthood. It's not that we don't try to make a change when December 31st rolls around: gym memberships spike, cabinets are cleared of junk food, purchasing of countless self-help books reignite. It's just that come February we've canceled our membership, the books we bought lay dusty, and the cabinets are full of Little Debbie snack cakes. For all our effort, New Year's only seems to remind us of our own powerlessness to change things in any meaningful and lasting way.
But there's more than one way to mark the passing of time. Over the course of hundreds of years, Christians developed their own sort of calendar: one which tied particular seasons of the year to events in the life of Jesus. In the "Christian Calendar," the beginning of the year isn't January 1st; it's the first Sunday of Advent, which generally falls on the last weekend of November. While our New Years begin with hunger pains and cravings for the candy we've sworn off. The church calendar begins afresh with God's people crying, "O, Come, O Come Emmanuel." Then, it tumbles into Christmas, where we rejoice that God has answered the prayers and longing of his people through the birth of Christ. Strange as it may seem, I think this is a better starting point for our years because it is one that acknowledges what our failed New Years resolutions reinforce: on our own we don't have the ability to really change, not at the deepest level, not in ways that matter most. In essence, the Christian New Year identifies what our January 1st New Year covers up: the inexorable truth that we can't fix things; it has to come from outside of us. So, we cry out, "O, Come, Emmanuel!" Because we know that we desperately need God's help.
In spite of how bleak this sounds, Advent is not a hopeless season. Instead, what Advent does is re-locate the source for our hope. Our traditional resolutions in January root all of the promise of the year to come in our own abilities. As if to say:
"This is the year I'll finally have the self-control to eat better."
"This is the year I'll finally turn things around in my dating life (or marriage)."
"This is the year I'll finally pick up that hobby I've been interested in."
Do you notice the theme in all of these resolutions? They depend entirely on what you can accomplish by your own willpower. In all fairness, with discipline and commitment, you might actually be able to turn things around when it comes to your eating habits, or your romantic status, or your hobbies. But to make things new, truly new, on a global and cosmic scale? No amount of New Year's Resolutions can accomplish that, not even if everyone could stick to them. It requires an act of God. For things to truly change, the God through whom all things were made must raise us to walk in newness of life. That is exactly how the New Testament portrays the work of Jesus, which began in a Bethlehem manger and will stretch onto a sea of glass in the new heavens and the new earth. As the same Spirit that hovered over the surface of the deep at the beginning of Genesis overshadows Mary. As Jesus passes the test in the wilderness that the first Adam failed in the garden. When the sight of the blind is restored, and the lame are raised to their feet: that is new creation is breaking through.
In starting our year with Advent, we as Christians are doing something countercultural: we are acknowledging at the beginning of this next cycle around the sun that we desperately need God. We are declaring that the success of the year ahead does not rest in our own willpower, but in the hands of the God who can really and truly change things. So believe it or not, this week, we just entered a new year. With that, perhaps you find your thoughts echoing the Death Cab song that marked my childhood, "This is the new year, and I don't feel any different." Yet even here, this season stands ready to remind us that real change is not rooted in how we feel at any given moment, nor is it dependent on our fragile human ability. We may not feel different, but the truth remains...because of Christ, everything has changed. The one true God has heard the cries of his people, "O Come, O Come Emmanuel" and has spoken decisively through his Son, the Word made flesh. That is the beginning of the new creation, and it's a better way for us to begin our year: not by placing our hope in what we will do, but with a reminder of what God already has done in Christ.
Grace and Peace To You,
– Travis Lowe, Teaching Pastor